The judging panel will include, but is not limited to, representatives from Astellas and our partners: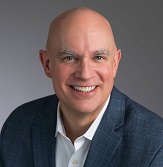 Mark Reisenauer, SVP, Oncology, Astellas Pharma US
Mark Reisenauer has been Senior Vice President of the Oncology Business Unit at Astellas Pharma US, Inc. since May 2011. A veteran oncology commercial leader, Mark is responsible for all U.S. commercial activities supporting marketed products and Astellas Pharma's oncology co-promotion partners. He also leads commercial planning for early stage development compounds.
Mark was a caregiver for his father, who battled head and neck cancer before passing away on his 80th birthday.
The rest of the judging panel will be revealed soon. Stay tuned!