Out of many submissions received, five individuals were selected to pitch their ideas live to our judges at Stanford Medicine X and three were chosen as the inaugural C3 Prize winners.
Learn more about the winners and finalists and their ideas below.
Winners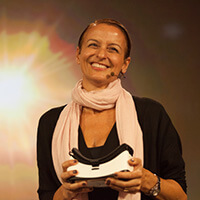 Grand Prize Winner
Diane Jooris, Brussels, Belgium
Oncomfort
Diane Jooris is the co-founder of Oncomfort, a health-tech company that uses virtual reality systems to help patients by providing anxiety and pain self-management tools.
Extensive research underscores the significant role that anxiety management plays in successful cancer treatment. Traditionally, anxiety treatment has relied heavily on medications. In contrast, Oncomfort offers a non-pharmacologic and more comfortable alternative to anxiety management through the use of immersive virtual reality modules.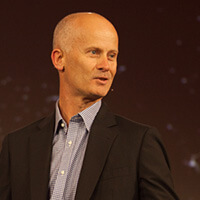 First Prize Winner
Mark Harrison, Melbourne, Australia
Australian Prostate Cancer Research
As CEO of Australian Prostate Cancer Research, Mark Harrison recognizes that for many men with prostate cancer—particularly those living in remote and rural communities—accessing appropriate support and clinical services can be challenging.
This knowledge inspired him to develop PROSTMATE™, one of the world's first interactive online systems designed to meet the needs of men with prostate cancer. A membership-based program, PROSTMATE provides a tailored experience to help men with prostate cancer get the information, support, and tools they need to manage their disease.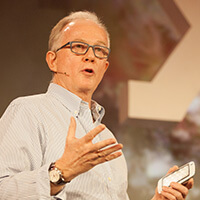 First Prize Winner
Larry Pederson, Seattle, Washington
The Litebook Company Ltd
As a longtime sufferer of seasonal affective disorder (SAD), Larry Pederson was driven to find a better solution for existing lightbox technology. In 2000, he founded The Litebook Company, a Canadian-based organization that invented a portable light therapy device called The Litebook®.
The Litebook holds promise for cancer patients suffering from the profound fatigue often brought on by chemotherapy treatment—a symptom that is similar in many ways to the feeling that results from severe jet lag. In much the same way that the Litebook can reset a traveler's internal body clock, the device has the potential to "reset" a patient's body clock and help to improve energy, sleep and overall quality of life.
Finalists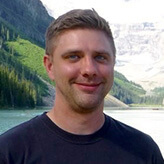 Kevin Linn, Vancouver, British Columbia
Vancouver resident Kevin Linn has a Master of Public Health from the University of Saskatchewan and is employed as a Senior Policy Analyst for cancer at First Nations Health Authority.
Kevin's bright idea stemmed from the realization that traveling to and from chemotherapy or radiation appointments can pose challenges for some cancer patients. Chemotherapy side effects make it difficult and unsafe for patients to drive themselves, and often, the responsibility for meeting all of a patient's transportation needs falls on a select few individuals. Kevin's solution? Combine a web-based application with social media sharing to help patients get to treatment and therefore improve adherence to cancer treatment plans.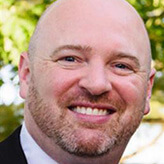 Eric Luellen, Boston, Massachusetts
Bioinformatix's Rx&You
Eric Luellen is the co-founder of Rx&You, a cloud-based artificial intelligence platform designed to address four distinct problems impacting clinical outcomes today: medication non-adherence, coordination of care, drug-drug interactions, and patient education.
Rx&You remotely monitors patient medication behavior in near real-time, providing appropriate intervention to help solve care coordination and treatment challenges, while strategically collecting Big Data for comparative effectiveness and knowledge discovery. By identifying and tracking meaningful events about patient health and medication behaviors, Rx&You can detect behavioral patterns, gather relevant data and transmit alerts and information to help improve outcomes.