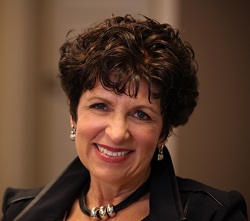 2019 Grand Prize Winner
Idea: Expand the reach and impact of Nanny Angel Network, which delivers free, specialized childcare for mothers with cancer once a week for the duration of their cancer journey by training Nanny Angels to provide stability, normalcy, and coping skills during this challenging time.
About the Winning Idea
Audrey Guth, a cancer survivor and mother of four, established the Nanny Angel Network in 2009 after she found a gap in health care and social services for mothers with cancer and their children. Audrey noticed that mothers must choose between looking after their children and going for treatment, and children often feel sad, scared and anxious. The Nanny Angel Network aims to reduce the unequal burden of cancer care and focuses on tools and resources that reach under-served populations.
The Nanny Angel Network provides specialized training for "Nanny Angels," who are professional nannies, nurses, teachers and social workers who volunteer once a week throughout a mom's illness and for one year following her death. Nanny Angels provide normalcy for children by maintaining routines and participating in fun, educational, and therapeutic play activities. They are also trained to respond to children's questions about cancer and their mother's diagnosis.
The Nanny Angel helps to give children the resources to cope with their mother's cancer and provides peace of mind for mothers, who know their children are being cared for by a vetted, highly trained, reliable volunteer Nanny Angel for the duration of her illness, recovery and in some instances, for one year following her death.
How the C3 Prize Will Be Used
Nanny Angel Network will aim to increase the number of mothers it supports each year by enhancing its back stage technology and client management system so that it can scale its service delivery with efficiencies; develop a Family Advisory Committee, so that mothers can provide feedback on the program, and increase outreach with oncology and social work departments at hospitals to increase referrals. For children, the Nanny Angel Network will develop grief and bereavement coping kits, purchase a medical teaching doll to help explain how medical interventions are undertaken, and establish a program to pay for these children to attend summer camp. They will also recruit and provide additional training for volunteers.